For the CC2 staff interview this time, we would like to introduce one of our programmer trainees, Manuel from Colombia. "I'm currently working as a programmer. My hobbies are drawing, 3D modeling, and playing video games." When we asked him if he had anything quirky to add to his introduction, he had this to say: "I don't have anything quirky to say so let me take this moment to say that you should stop reading this interview and go watch Sukeban Deka immediately! You can come back after you are done."
Let's get to know him more!
I decided that, no matter what, I would try to make something that I could also enjoy playing, because how could I convince anyone else to try having fun with something if I couldn't myself?
We heard you studied gaming here in Japan. What led you to this decision?
I wanted to learn how to make the most fun action games possible, and I tend to lean toward stylish Japanese action games more than anything else. So I decided that Japan was the country where I wanted to try to make action games as cool and fun as these. But I had to overcome one of the biggest barriers, which was the language. For that, my cousin suggested I take advantage of the Japanese classes offered at my university. I studied Japanese for about a year while also majoring in system engineering (which is kind of the equivalent of computer science in Colombia).
While doing it I realized that at this pace, I would never be able to overcome the next barrier, which is the cultural one. It's not the same to be reading about Japanese culture and seeing it on Japanese dramas or manga compared to actually living here. On top of that, I wasn't getting as good with my Japanese as fast as I would have liked to since my major and my focus was still revolving around my major. So I talked to my teacher about it and he suggested I take a year to study Japanese in a university in Nagoya.
How did you find out about the school and what was the experience like?
With my teacher's help, I managed to go to Nagoya for over a year. I also tried applying to a couple of Japanese gaming companies while I was studying. But it wasn't successful as I had no idea how to present a game to get an interview in a Japanese company. Also, my only experience with programming video games was just with Unity. I knew the basics of OpenGL but didn't know how to properly use it to create something I wanted to show.
While searching for companies I realized there was a technical school in Nagoya where I can study game programming. A lot was happening in my life and with my family around this time and I didn't want to take 4 more years of studying just to finally be able to work, but luckily this technical school had an option to become a 2-year student. So I bit the bullet and decided to just go for it. While studying there, I decided that, no matter what, I would try to make something that I could also enjoy playing, because how could I convince anyone else to try having fun with something if I couldn't myself?
I think that was ultimately what led me to so many failures when presenting my codes in other companies, but with this chance I managed to create something that feels like something I would enjoy. It made me realize that it was my ultimate presentation card, games with my own drawings, models, code, and game design ideas. The only thing I couldn't do was the music. Either way, my teachers seemed happy with the results and always encouraged me to keep moving forward. The technical school also had a chance that let us present our graduation projects to companies in Japan and that's where CC2's lead programmer noticed my project and told me to apply.
Is what you study in Japanese technical schools different from what you study in Colombian schools?
If I compare my university in Colombia with the technical school in Japan, the most obvious difference would be that there is no way to study game programming in Colombia. A fair amount of students get into an engineering major hoping to get to the industry, and some of them do, but most are hit with the fact that we have few gaming companies in Colombia compared to North America or Japan.
I grew up playing Silent Bomber on PS1 and I had the chance to play Asura's Wrath later on, so I wanted to see the most creative side of CC2 and help out with the development of it.
How long have you been working for CC2? Is this your first company?
About 5 months already, and yes.
What attracted you to CC2 initially?
The idea of making new original games. I grew up playing Silent Bomber on PS1 and I had the chance to play Asura's Wrath later on, so I wanted to see the most creative side of CC2 and help out with the development of it. I thought C5* was the perfect chance to try making something new.
*An in-house game idea contest in which all employees can participate, regardless of their experience, and a way to showcase to everyone the game ideas that they want to do. For more details, read here: https://www.cc2.co.jp/en/original-organization
How did you apply? What was the application process like?
The company called my technical school and asked me to present my application form. Before I knew it, I had two interviews and during the second one I got my results. I'm incredibly thankful for that.
How long have you been living in Japan?
Since 2016.
Are there any challenges you faced while working for a Japanese company?
Adapting to the company culture. Being a student in Japan and being an employee in a Japanese company is not the same. I believe the way people talk to each other is different than talking to other students or teachers, so adapting to a new culture is always a challenge. Luckily CyberConnect2 helped me a lot with this.
How much Japanese do you know now?
(Enough to understand what is happening when I watch Kamen Rider Black RX!) I can get around with it, it's not perfect, but I'm still studying and willing to use it as much as I can.
What have you found most surprising about coming here? Any strange or funny experiences?
Maybe I'm lucky, but the cities I've lived in are full of nice, kind people, and it feels comfortable to live here in Japan.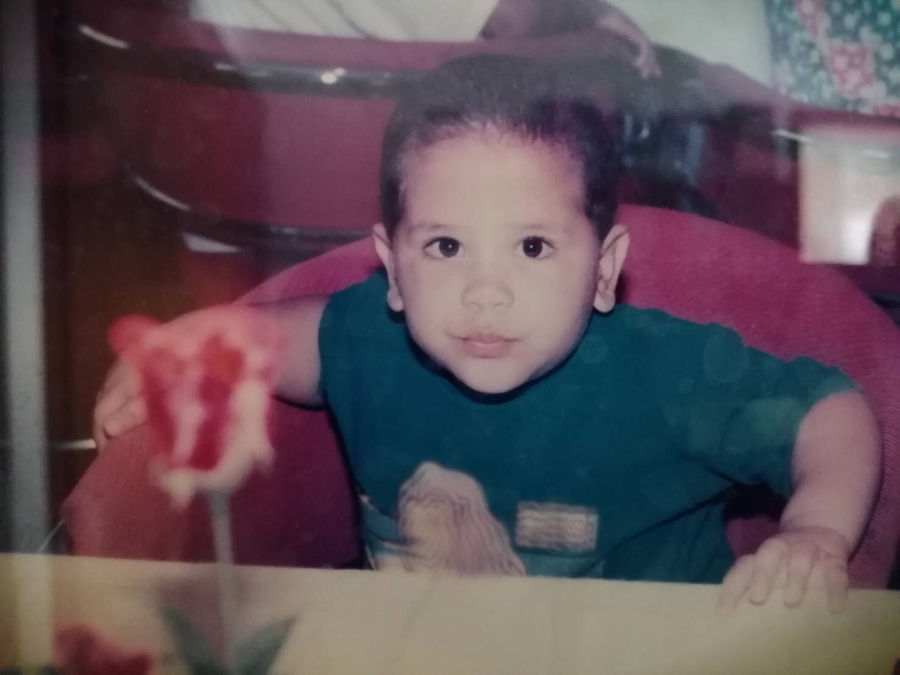 Manuel at 3 years old
What is something you wish you brought from your home country to Japan?
My family so I can stop asking my mom how my grandma is during every phone call we have.
Something you wish you didn't bring?
My old laptop, but I had no idea it would break in my first month of being in Japan.
Did you bring your consoles from Colombia to Japan?
I got everything I have here from the first time I came to Japan. I didn't want to deal with shipping. I usually just play on PC, and the games I enjoy the most tend to get released for Windows, so my laptop does fine when needed.
Is there a difference in the games that are popular in Colombia and in Japan? Are Japanese video games also popular in Colombia?
When it comes to console users, the real question would be how popular is FIFA here compared to Colombia and the answer is not nearly as much. When it comes to PC, well, I haven't been in Colombia in quite some time but last time I checked multiplayer online battle arena games were the most popular (like DOTA2 and League of Legends). Personally, that's probably the only genre of video games that I'm not into; I feel I was the weirdo in my classes who just wanted to play Devil May Cry 4…with a keyboard.
But talking with my cousins makes me think more people are now open to the idea of indie games. Since my cousins are into old school console RPGs, puzzle games and action games, I tend to recommend indie games to them all the time. They also seem to find them on their own and ask me about them sometimes, which is nice because more people get to play hidden gems that otherwise could use more exposure.
As far as how popular Japanese games are in Colombia, well…I guess I can say Nintendo is well known across the country. I'm sure most Colombians know who Mario is or what a Pokemon is, and most of my friends and family play Smash Brothers, Donkey Kong and Zelda. Aside from that, there is always the big franchises like Final Fantasy and Metal Gear which are always popular there as well.
What are the games you currently play?
I'm juggling between MDK2, VTMB and TW101. If you know what all these acronyms mean, you are rad.
How does Japanese coffee compare to Colombian coffee?
Horrible. Sorry, I say the same to everyone here, but I've yet to find Japanese coffee that can match the one from Colombia. But to be honest, I don't think I've been in a country with better coffee than Colombian coffee.
Lastly, what would be your advice for the future CC2 staff?
Be memorable. When making the games I presented for CC2, I realized I put everything I liked in them. Like I mentioned, even with all my limitations, they were my presentation card for all the companies where I presented myself. And those that gave me the chance and got interested in me will always be in my heart. You could say being yourself is something you are going to have to deal with when making games alone, but you would be wrong too. Your team will expect to hear your voice and to know your point of view too, as well as the problems you find with your work, the way to fix them, and your ideas for it. These all serve to leave your fingerprints on the games you are working on, all for the sake of creating the best possible game to make those who play it happy.


What an insightful talk! We expect great things from you, Manuel!
Keep your eyes peeled for our next interview!
—
Return to Japan Life Hacks main page.