Meet Yoann Gueritot. He's the director of one of CC2's games under development, Fuga: Melodies of Steel. "I'm French, and YES, I like cheese and wine," he says. He's also a game and level designer. How does one become a game director for a Japanese game development company? Read on to find out!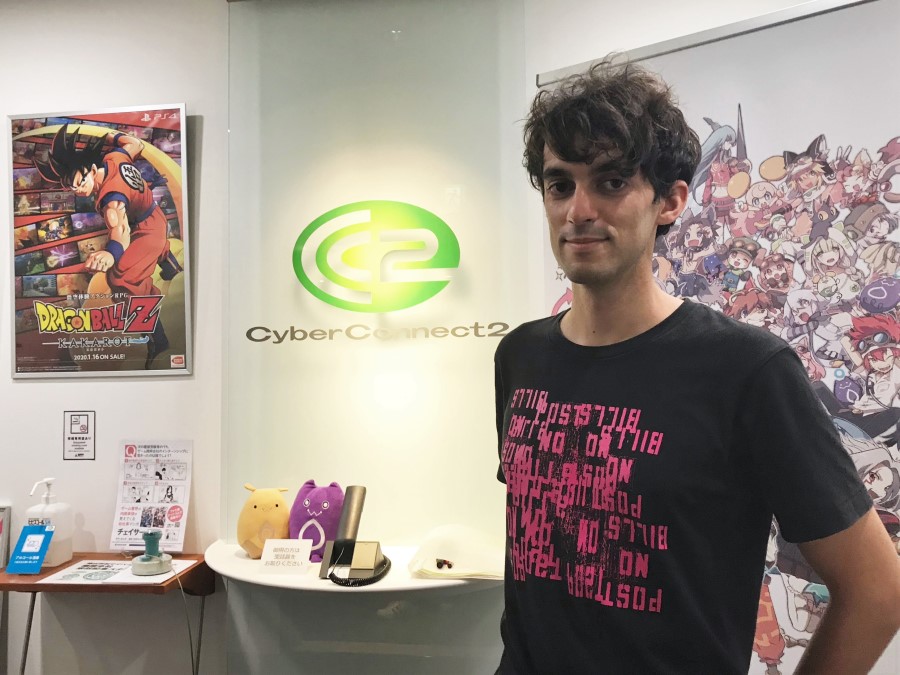 How long have you been working for CC2?
More than 6 years now! I started in January 2014 on a big RPG project, then Dragon Ball Z: Kakarot, and now I'm working on Fuga: Melodies of Steel.
Is this your first company?
I worked in many French video game companies before coming to Japan, like Ubisoft, Cyanide, and Magic Pockets.
How did you get into your position?
As soon as I entered the company, I constantly made game proposals, and told everyone that I wanted to direct my own game someday. It's very important to show your motivation. I got into my position as director two years ago, working on the next Little Tail Bronx entry. I found some of the titles charming: Tail Concerto, Solatorobo: Red the Hunter. They were cute games. I really like this universe and I was really motivated to make this new game so I said yes to it.
How do you feel about a project that you deliver passion for, as opposed to being placed [in a project]?
It's super motivating. Finally, it's my thing, it's my game. But it's also hard, if it's my game then I have additional responsibilities. So, in that way it can be kind of hard sometimes.
As for being insistent and showing motivation, would you also give the same advice to other foreign staff?
Yes. Definitely. If you want a specific position, you have to say it, you have to show it. Show what you can do, show your hard work. When I first arrived here, I found out that everyone in the company can make game proposals. Like, EVERYONE. I always participated in that, showed my ideas and stuff. And that helped a lot, definitely. I went to an employment seminar here in Fukuoka, spoke in front of 500 people… I had just arrived, I had no confidence, but I thought that if I did that, I could make myself known here in the company. They would know who I am and what I want to achieve. So just be active, show your passion.
How did you learn about CC2?
I knew of it as a player. I played the Naruto games, Ultimate Ninja Storm. I liked all the awesome action scenes and awesome animation. Also with Solatorobo: Red the Hunter, Asura's Wrath, I could identify the company's philosophy. And I thought I want to make games like these. Not too complex… like, they are not hugely realistic. They just focus on fun, on good feelings, good gameplay, good graphics, and good visuals. So it seemed fun to work [for CC2].
The first time I saw [President Matsuyama], it was on YouTube. He was in France, in the Paris Marathon. He was running dressed up as Naruto. I was like, who is this guy…? And I realized he was the CEO of CyberConnect2. I was like, OK. That's where I need to be!
I like the fact that CC2 games keep their gameplay simple and accessible, while focusing on fun, feeling, world-building, and awesome action scenes.
What attracted you to CC2 initially?
I always loved the company's philosophy as a player and as a developer. I am not a skilled hardcore gamer, and I like the fact that the games here keep their gameplay simple and accessible, while focusing on fun, feeling, world-building, and awesome action scenes. Those are the kind of games I like to play and make.
How long have you been living in Japan?
I've been visiting Japan for 15 years, but I've been living here for 7 years.
What other companies have you worked for in Japan?
After applying to Japanese game companies and while waiting for an answer, I worked for 2 months at Uniqlo in Ichinomiya (Nagoya suburbs). Not my ideal job, but I wanted some work experience in Japan before getting to do what I really wanted to do. I learnt a lot there!
Did you work there as a model?
No (laughs), as a clerk. It was nice. At first I thought it's not really my cup of tea. I did some work at McDonald's when I was younger. It's not my first time. I used to be a developer, first, and then I did that, you know, while waiting to hear from [gaming companies], but I wanted some working experience in Japan before moving to a being a developer, and it was a good experience.
At that point, how was your Japanese? Your confidence in your Japanese?
Well of course [it wasn't] as much as right now, but it was ok.
Do you think it was a good learning process (for your Japanese)?
Yes, that's one of the reasons why I applied. Because I wanted some experience on the words you use when you're working. Not just working, but the way you communicate with clients, the way you communicate with your coworkers. I didn't have any experience with that. So, I'm glad I did it.
How much Japanese did you know before coming to Japan?
University level. Having studied Japanese for 3 years I thought I could manage on my own after graduating, but it was more challenging than I thought. Real Japanese can be different to what you study in class. I truly began to get better thanks to my wife since we only speak in Japanese, and also through communication with my Japanese colleagues.
How much Japanese do you know now?
Much more! Honestly I couldn't say I'm bilingual since there's still a lot of complicated words (and kanji) that I don't know, but spending 7 years working in Japan definitely helped me improve my Japanese.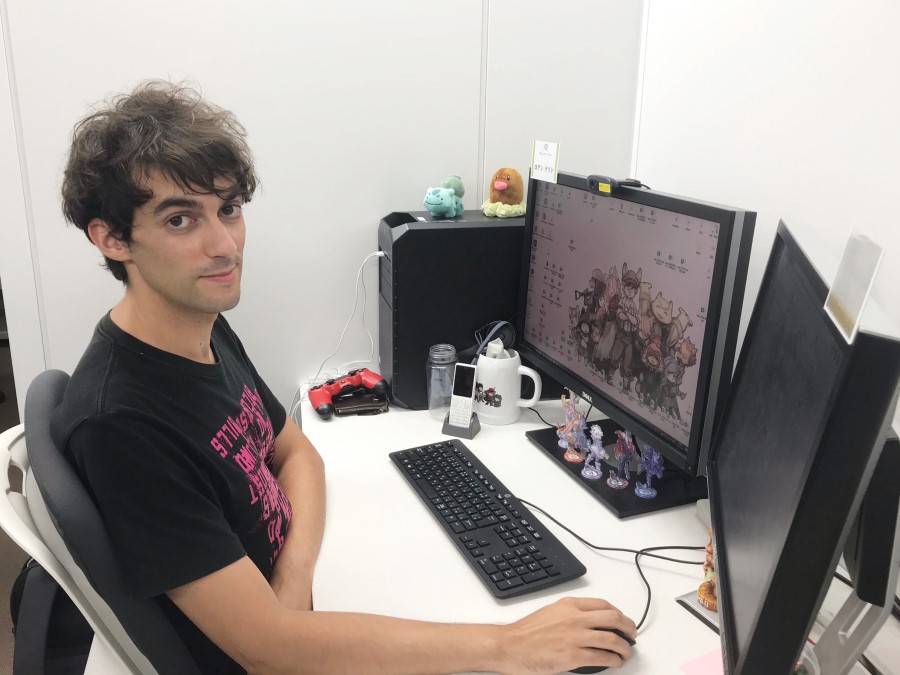 What are the misconceptions you've had about working in Japan?
Working in Japan you can feel the passion, which is the most important thing to me. You can really see that developers here are very motivated. I was attracted to that when I was a kid, when I used to read interviews of Japanese developers. I was enthusiastic to work with people who had the same passion I did, and that inspired me to come to Japan.
What have you struggled with while working for a Japanese company?
I guess that will sound obvious but the language is the tallest barrier I'm confronted with everyday (even now!). But thanks to being at CyberConnect2, I've really honed my Japanese skills.
If you could give your fellow international coworkers advice on how to improve working together with their Japanese counterparts, what would you say?
Don't push your culture too strongly, don't make negative comments on what you're not sure about, and don't express your opinion too strongly. It doesn't mean you can't be yourself or have your own opinion, it just means you should be culturally aware, and express your opinion taking this into account.
What is the most challenging thing you've encountered in your job?
Sometimes you have the perfect idea, and then you realize it doesn't fit with the other elements of your game. But still, the idea's so great that you try to include it anyway… only to compromise your game's integrity. I would say the most difficult part of a Game Designer's job is to sacrifice a good idea for the sake of the game as a whole.
Sometimes you have to throw away your pride as a creator. For the sake of the game, you should try to make something consistent that matches with the scale of the game
Have you had any issues with developments? Like in your mind, it's a perfect idea, but it doesn't work out for the consistency of the game?
Sometimes you have to throw away your pride as a creator. For the sake of the game, you should try to make something consistent that matches with the scale of the game. Like reducing the number of items, skills, systems to make something that is more compact. Something that feels right regarding its scale.
What is the strangest thing you have seen/experienced in Japan?
My chihuahua got attacked by a falcon on the beach and saved by a giant crow. Most epic country ever.
What is something you wish you brought from your home country to Japan?
My friends, my old PS1, some saucisson (French dry sausage).
What are the games you currently play?
The World Ends with You on Switch (works really well with a stylus), Trails in the Sky on Vita, and Yakuza 6 on PS4.
What has surprised you the most about coming here?
The first time I came here 15 years ago I got surprised about how everything was so convenient and how safe the country was.
Did you bring your PC/console(s) from your home country to Japan? How easy/difficult was shipping?
My PS3 and Xbox 360 were too voluminous so I left them to my little brother, and bought a new PS3 here. I only took with me my 3DS, my Vita and my Wii U.
What was your starter Pokémon in Gen 1?
The alpha and omega, the true and original, Number 001 a.k.a Bulbabro. Ever wondered who took that 3rd Pokeball you and Blue left on the table? That was me.
Any last words?
Japan might not be what one expects so before coming to work and live here, I advise them to visit a few times for a few weeks or months, to be sure they want to live and work here.

Thank you for taking the time to talk to us, Yoann! We look forward to Fuga: Melodies of Steel!
—
Return to Japan Life Hacks main page.