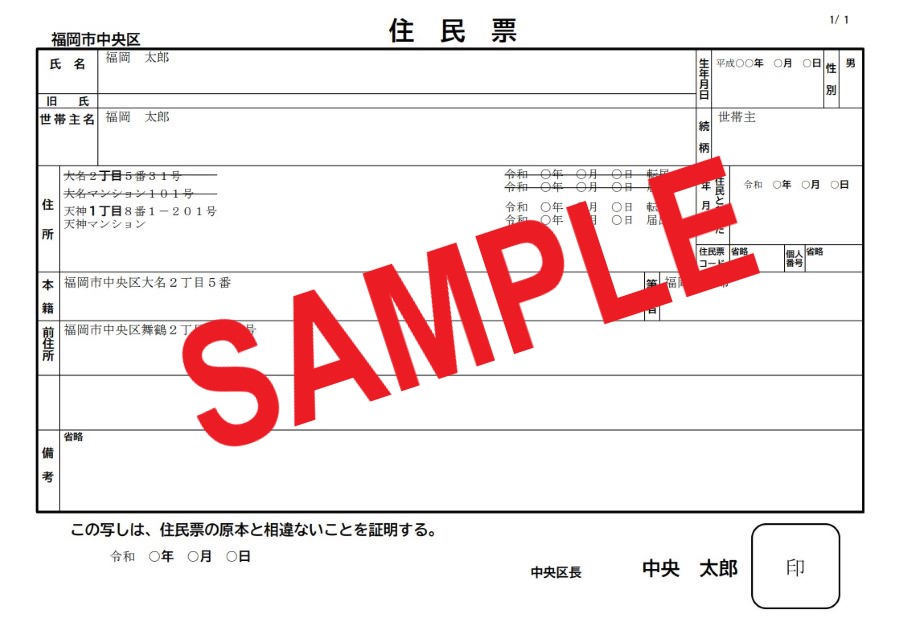 Photo credit: Fukuoka City
I. What is the Certificate of Residence?
After arriving in Japan and securing your apartment, the next step in the process is to acquire your certificate of residence. Not to be confused with the residence card you already own (more on this here), this document contains your home address, your My Number, your date of birth, and the information of anyone staying with you. It is one of the most commonly used documents in Japan, as it is required for numerous types of procedures here
II. Applying: Applicant & via Proxy
Document to Submit: Application Form (located at the city/ward office, or print the English one for Fukuoka City here. Click here for the PDF source.)
Application Reception: Department of Citizenry in each ward office, branch office, or at one of the 34 post office locations in Fukuoka City.
How to Apply:You must submit your application in person at your area's ward office.
Necessary Documentation:

ID – Your residence card, passport, or insurance card all qualify as valid ID. If you have Japanese driver's license, that will also suffice, though you may still be asked to show your residence card.
Personal Seal (It can be just your "mitome-in" or seal of approval. Additionally, some offices in Japan allow for your to simply sign your name without needing your personal seal. (check your nearest ward office to confirm first.)
When having a third party request the certificate for you, a proxy authorization form is required.
III. Handling Fee & Operating Hours
Handling Fee: \300 per certificate
*Unless you have multiple services that require you to submit a certificate of residence, it's recommended that you only purchase 1 as they expire after 90 days. That said, it is always safe to keep a copy in your home in case of an emergency, even if it expires.
Operating Hours
Ward Office and Branch Office hours: Weekdays 8:45~17:15
Post Office hours: Weekdays 9:00~17:00
Location of Hakata Ward Office
—
Return to Japan Life Hacks main page.