*From CyberConnect 2 Official "Naruto Ultimate Series" Staff Blog
Hello !
I'm Ryuta Yazawa, a Localization Specialist of CyberConnect 2 !
This time I will try to talk about "Localization" for
"NARUTO SHIPPUDEN: Ultimate Ninja Storm Generations".
On this title I was responsible of manage the Localization
to English, French, Italian, German and Spanish.
This title, just like the prequels, was launched in North America, Europe,
Oceania and other countries.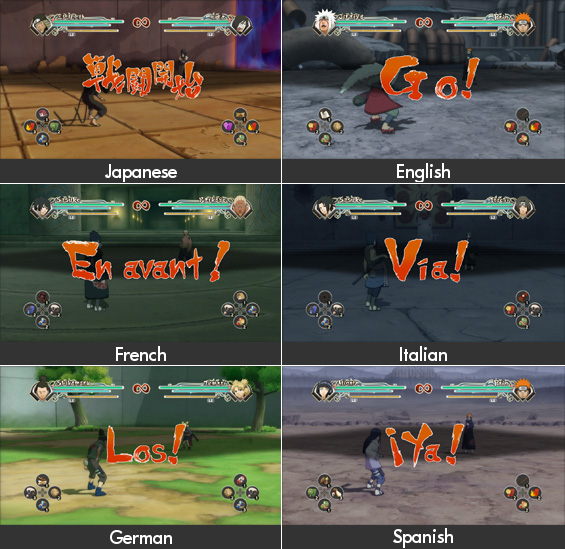 Maybe it's not a familiar word for you,
Localization is "the process of translating a product into different languages or adapting a product for a specific country or region" and our task was to localize the product to be accepted in overseas markets.
In "Naruto Ultimate Ninja Series",
in addition to the translation, we've tried to completely reproduce
the Anime using all the Justu names, place names and expressions
used in the "Naruto Shippuden" anime series.
The International versions has Japanese and English audio
and as we have noticed from our fan voices,
there are many people that they're playing with Japanese audio + subtitles.
Some of them listen carefully and remember the words !
Share the "Naruto Love" with the translators !
So, in development, from the start of the Localization process
what I focus on the most is to "respond and support to questions from the translators".
In order to deliver games to everybody around the world as soon as possible,
CC2's Localization process starts during the game developing of the Japanese version.
Naturally, we try to provide extensive documents for our translators,
but there still are specifications that are not understandable.
For example, when we receive "I want to translate a Jutsu name of 《Character of first appearance, but how this Jutsu will be represented ?" question, we ask to the game designer or artist who is doing the adjustment and then write the answer with the best explanation.
Yes it can be a dizzy period but we're doing all this for the quality improvement
so it is also a very fulfilling time.
My tasks are not only these…
I still have a lot of tasks to do, but if I'll write all here
I can't see the end !!
So, this is it for today !!
Thank you,
and please enjoy "NARUTO SHIPPUDEN: Ultimate Ninja Storm Generations" !!