Hi guyz!!
How's your summer going on ?
Toooooo hot and humid here in Japan !!
We have a GREAT NEWS for all our Naruto games fans !
Did you already see the banner here on the right ? →→→→→→→
YES !!
We set up a new suggestion form for you Naruto games lovers.
What's new in the form ?
Firstly you have to select your region,






and then when the form will be shown,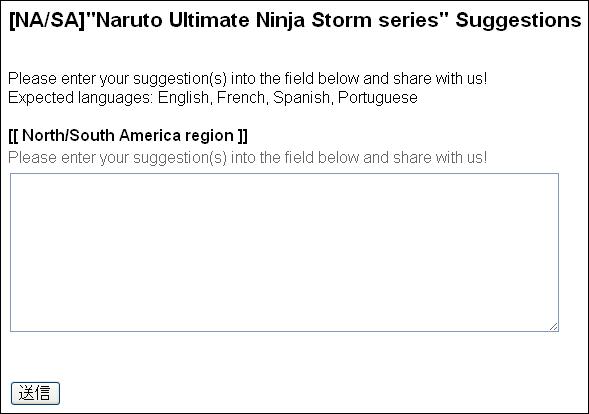 you can write all your suggestions, comments, ideas in the language prescripted!! (Please read the form for further info)
…
Sounds great, isn't it ?
Oh one more thing…
We are open to any comments and suggestions not only for
Naruto Shippuden: Ultimate Ninja Storm 3 but also for our future Narutimate games !!!!
SO,
What are you waiting for ?!
Please click the link here under and send us your voices !!
http://www.cc2.co.jp/narutimate_enq/intl.html
See you!!